India is known worldwide for its rich cinema. But while a huge number of films are produced here, India is also a destination that attracts filmmakers from all over the world. In addition to Bollywood films, India has served as a location for numerous Hollywood films as well as music-videos like Coldplay's popular Hymn for the Weekend or DJ Snake and Major Lazer's Lean On. Here are some foreign films that feature Indian locales:
Eat, Pray, Love (2010)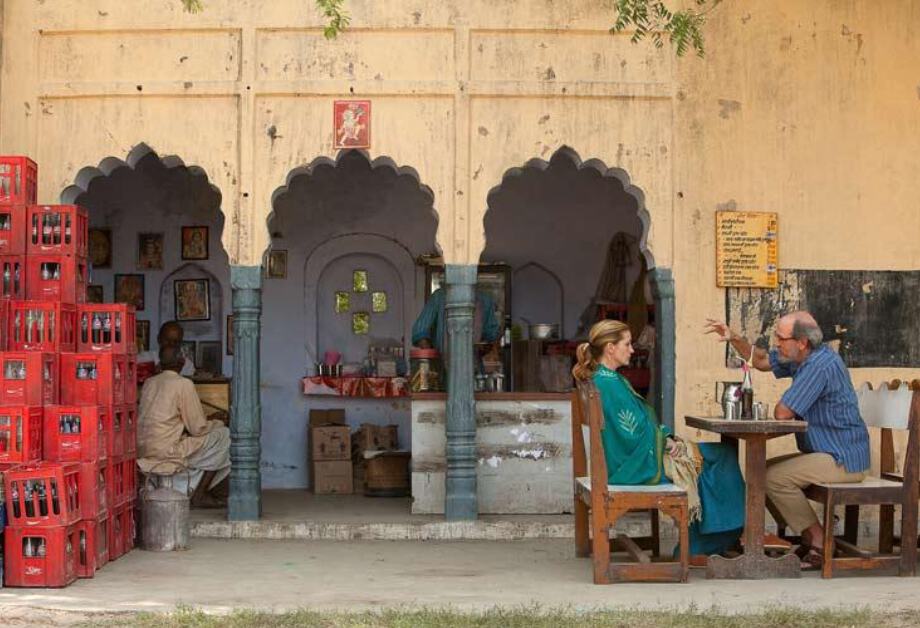 Julia Roberts' film Eat, Pray, Love based on the book of the same name by Elizabeth Gilbert, sees Roberts travel through Italy, India, and Indonesia for a spiritual and mental awakening. The spiritual journey of Julia Roberts' character takes place in India. Roberts traveled all over India for the film and stayed at the Ashram Hari Mandir near Delhi and a cottage at The Pataudi Palace in Pataudi.
Extraction (2020)

Randeep Hooda and Chris Hemsworth starrer Extraction was shot in parts of India – in Ahmedabad and Mumbai. Hemsworth enjoyed shooting in India with onlookers cheering and applauding with every take.
The Darjeeling Limited (2007)

Contrary to the name of the film, The Darjeeling Limited is primarily shot in Jodhpur in Rajasthan. The film is about three brothers who set out on a train journey across India after the demise of their father, in an attempt to rediscover their lost bond. Natalie Portman who has a cameo in the film spent 10 days traveling through India post a 30-minute shoot.
The Dark Knight Rises (2012)

Christopher Nolan's The Dark Knight Rises shot a scene in Jodhpur. The scene which saw Bruce Wayne escaping prison was shot in Mehrangarh Fort.
A Mighty Heart (2007)

A Mighty Heart starring Angelina Jolie sees the actress in landmarks like Gateway of India and Churchgate Station. The film is based on the life of Mariane Pearl in a frantic search for her husband Daniel Pearl.
Jobs (2013)

Steve Jobs had traveled to ashrams in India to find a purpose. Steve Job's biopic starring Ashton Kutcher was shot in India to mark that part of his journey. Scenes were filmed in Hauz Khas Complex and Safdarjung Madarsa in Delhi, and in Vrindavan.
Mission Impossible: Ghost Protocol (2011)

Mission Impossible: Ghost Protocol starring icons like Tom Cruise, Jeremy Renner with a cameo of Bollywood's very own Anil Kapoor, shot its climax scene in India. While the scene is shot in Bora Bazaar in Mumbai, other parts of Mumbai are also seen in the film.
Slumdog Millionaire (2008)

Slumdog Millionaire starring eminent film personalities like Irrfan Khan, Anil Kapoor, Dev Patel, Frida Pinto – is about a boy from the slums who becomes a millionaire on a game show. When accused of cheating, he travels into the past to reveal how he had the answers. The film is shot in the slums of Dharavi and Juhu and parts in Agra.
Zero Dark Thirty (2012)

The film by Kathryn Bigelow traces the decade long hunt of the world's most wanted man. The film was shot in parts in Chandigarh and Patiala. Punjab Engineering College and the town of Manimajra in Chandigarh have been featured in the film.
Life of Pi (2012)

Ang Lee's Life of Pi is the film of 'Pi' Patel (Suraj Sharma) who survives a shipwreck and manages to stay afloat and alive in the middle of the sea in the company of a hyena and a Bengal tiger. Parts of the film starring Irrfan Khan and Tabu are shot in Puducherry and Kerala.
(Contributed by Deblina Munshi)