Photography is an art and all of us artists! Well, amateur perhaps, but we've all turned on our inner photographer at some point or the other – especially since the advent of our camera-phones! Meanwhile, Bollywood's portrayal of photographers has also been quite aspirational that has left us all with a sense of wanderlust. Let's look at some actors who've played photographers on screen:
Nawazuddin Siddiqui (Photograph, 2019)

Nawazuddin Siddiqui as the struggling street photographer Rafi pulls off an extraordinary performance in Photograph. Siddiqui does more by saying less as Rafi, who convinces Miloni (Sanya Malhotra) – an aspiring chartered accountant – for a photograph. What Miloni sees in the photograph is a much happier version of herself!
Sarah-Jane Dias (Angry Indian Goddesses, 2015)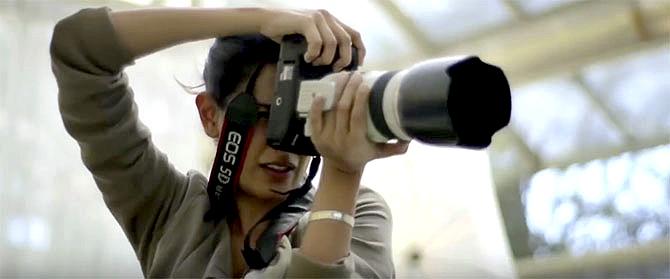 Sara-Jane Dias as Freida De Silva plays a fiery and bold fashion photographer who is unafraid to voice her opinions. Freida has no qualms being brutally honest even if it is at the cost of her job.
Ranbir Kapoor (Wake Up Sid, 2009)

The good-for-nothing son of an industrialist, Siddharth Mehra (Ranbir Kapoor) finds passion in photography. Sid's life is refashioned when he gets an opportunity to work as a photographer at a noted media house.
 R Madhavan (3 Idiots, 2009)

Farhan Qureshi's (R Madhavan) story resonates with many aspiring photographers who are forced to make alternate and conventional career choices. R Madhavan stages the agony of an extraordinary photographer grappling with mediocrity at an engineering institute, with perfection.
Nargis Fakhri (Madras Cafe, 2013)

As a British journalist in Madras Cafe, Nargis Fakhri takes up not just journalism but also photography in the film. Nargis plays Jaya Sahni – an investigative journalist interested in investigating the Sri Lankan President's assassination.
 Priety Zinta (Ishkq in Paris, 2013)

Ishkq (Priety Zinta), a playwright and photographer doesn't believe in the idea of love until she meets Akash (Gaurav Chanana) one day and decides to spend the day together with the promise that they will never meet again.
John Abraham (Dostana, 2008)

John Abraham as Kunal in Dostana is a fashion photographer. Kunal helps Neha (Priyanka Chopra Jonas) shoot for her magazine and wins her trust along with Sameer (Abhishek Bachchan) under the pretence of being gay.
 Randeep Hooda (Murder 3, 2013)

In the 2013 film Murder 3, Randeep Hooda plays Vikram – an avid fashion and wildlife photographer – whose estranged girlfriend (Aditi Rao Hydari) schemingly frames him as a suspect in her disappearance.
Deepika Padukone (Cocktail, 2012)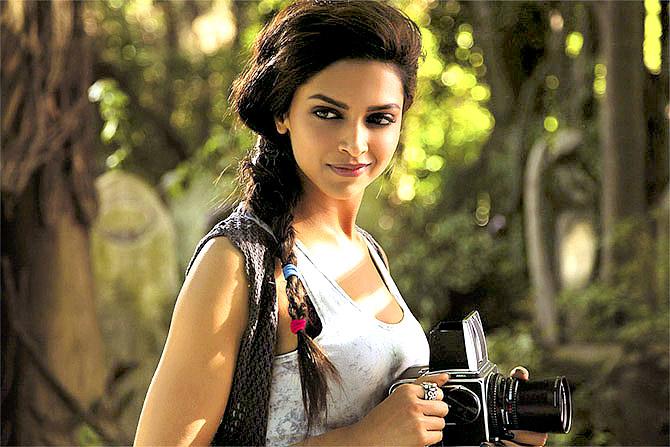 Deepika Padukone, as the feisty Veronica, plays a photographer who is confident, fearless, selfless, and unabashedly demands what she wants.
Akshay Kumar and John Abraham (Garam Masala, 2005)

Mac (Akshay Kumar) and Sam (John Abraham) are two photographers whose boss threatens to reduce their pay if the World Photography Competition is not won. All hell breaks loose when Sam wins by stealing and takes a trip to the US while Mac is demoted and left behind to fend for himself.
Fardeen Khan (Pyaar Tune Kya Kiya, 2001)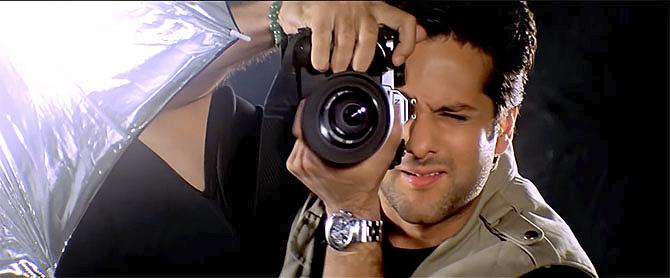 Ria (Urmila Matondkar) falls in love with Jai (Fardeen), a fashion photographer, who convinces her to model for him. When she finds out that he is married, her love turns into an obsession that has tragic consequences.
They played photogs too:
Fardeen Khan (Pyaar Tune Kya Kiya, 2001)
Emraan Hashmi (Raaz Reboot, 2016)
Ranbir Kapoor (Yeh Jawaani Hai Deewani, 2013)
Amitabh Bachchan (Nishabd, 2007)
Rahul Bose (Mr and Mrs Iyer, 2002)
Aamir Khan (Deewana Mujhsa Nahin, 1990)
Shatrughan Sinha  (Khoon Bhari Maang, 1988)
Naseeruddin Shah and Ravi Baswani (Jaane Bhi Do Yaaro, 1983)
Om Puri (Mandi, 1983)
Raj Babbar (Agar Tum Na Hote, 1983)
Naseeruddin Shah (Ijaazat, 1987; Bezubaan, 1982)
(Contributed by Deblina Munshi)