These cars are A M A Z I N G!
In Dubai, we are used to the idea of seeing "the biggest frame", "the tallest building" and "the deepest pool". But, did you know that there are cars that you will see in Dubai only? these cars are not meant to be driven, but to look at and admire!

Devel Sixteen
No, it's not a spaceship, it's just an extraordinary car. The Devel Sixteen was unveiled at Dubai Motor Show in 2013. The Devel has a 12.3-liter V16 engine that can produce nearly 5,000 hp! (I don't know what does that even mean, but it sounds super cool!). When we searched about this car, we've found out that the power output of the Devel is 5 times more than a Bugatti Veyron. The car speed can reach 560 km/h. Well, in this case, we can call it a spaceship! This car is made in UAE by Devel Motors in cooperation with American and Italian Engineers.
The Batmobile
Batman, is that you? This car can be seen in Sci-fi films, or a video game,s or simply, in a Batman movie! But in our case, we've seen this car on Dubai roads. The Batmobile belongs to a company called "Team Galag" that created this beast.
Solid Gold Lambo
Lamborghini? Duh! You see a Lamborghini everywhere in Dubai, but the thing that you will see once in a lifetime is a Solid Gold Lambo! The car is carved from a solid block of gold weighing in at 1,100 pounds. After all the procedures were done, the car had 55 pounds of solid gold all over it, making it EXTREMELY expensive!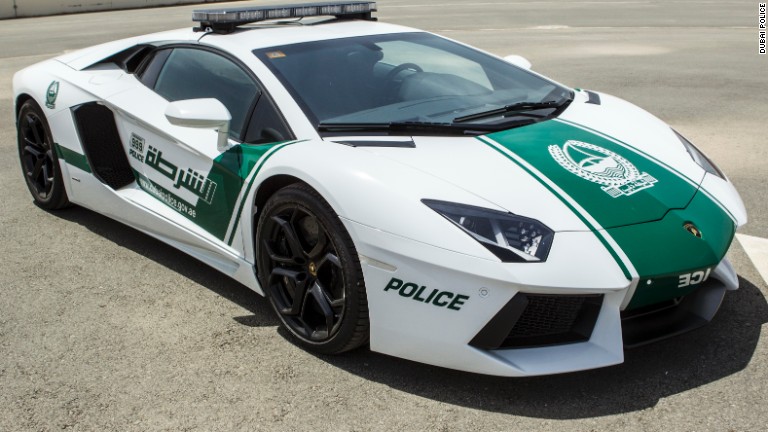 A Lamborghini Cop Car
Doing something and thinking of getting away with might not sound a good idea when you know that Dubai Police has Lamborghini Aventador in their fleet! Well, not only Lamborghini Aventador, but also a Bugatti Veyron, a Ferrari, and a Bentley. FANCY!

Coined Range Rover
A company in Dubai had a unique idea – wrap the exterior of the car with coins. The company called "Cars Coin" is based in Dubai, and its job is to cover its customers' cars with coins that are either antique or just normal everyday-use coins. Their newest showpiece is the latest Range Rover with 57,000 coins wrapped all over the body, this added layer adding nearly 170 kilos to the car. The team polishes the coins by hand and then glues them to the car. With this car by your side, you'll never have to worry about spare change ever.