The Nawab of Pataudi, one of the suavest actors in Bollywood and soon to be a 'Quadfather' turns 50 today. Half a century later, he still doesn't cease to surprise us with his quirky and some iconic performances. As we celebrate Saif Ali Khan's 50th birthday, let's look at some of his best performances:
Omkara (2006)
Saif Ali Khan plays Ishwar 'Langda' Tyagi in Vishal Bhardwaj's adaptation of Othello – Omkara. Langda Tyagi walks with a limp and plots to pit gang members against each other for revenge. Saif's character is based on Iago and his powerful performance as an evil conspirator leaves an impression on the audience.
Being Cyrus (2006)

Being Cyrus is Saif Ali Khan's first English language film and one of his finest works. Saif plays an accomplice to murder in Homi Adajania's critically acclaimed film. As Cyrus Mistry, Saif builds an infallible plan to dupe a family of its money.
Dil Chahta Hai (2001)

Saif Ali Khan acted alongside Aamir Khan and Akshaye Khanna in Dil Chahta Hai. He played the role of Sameer – a hopeless romantic who easily falls in love. Although a constant butt of jokes, he is the friend who keeps the bond strong and often plays a mediator.
Kal Ho Na Ho (2003)

Saif Ali Khan as Rohit Patel in Kal Ho Na Ho is quirky, funny, naive and a victim of unrequited love. The character perfectly suited Saif Ali Khan back then with his chocolate boy looks.
Go Goa Gone (2013)

Go Goa Gone is an apocalyptic film featuring Kunal Kemmu, Vir Das, Anand Tiwari, and Puja Gupta along with Saif Ali Khan. Khan plays Boris, a Russian drug lord, and zombie slayer. The film was none like Bollywood had ever seen.
Hum Tum (2004)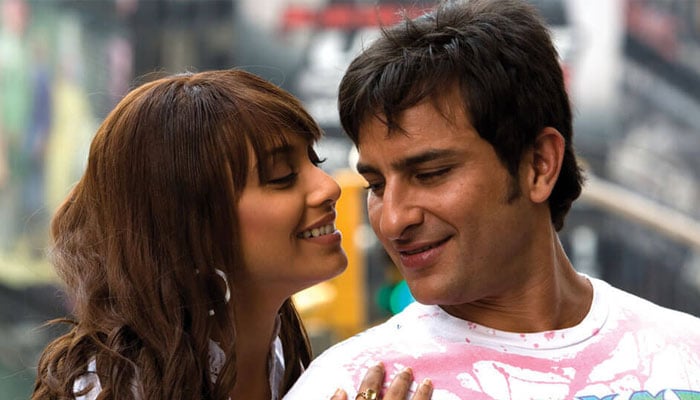 Saif Ali Khan portrays a cartoonist who depicts male and female behaviour through his art. Saif often reminds us of Hugh Grant in Notting Hill, except his character is much more flirtatious and well off.
Ek Haseena Thi (2004)

Saif Ali Khan plays an associate of the underworld in Ek Haseena Thi – who uses his girlfriend as a pawn to keep the police from reaching him but eventually gets tricked by her into getting caught.
Jawaani Jaaneman (2020)

Saif Ali Khan's Jazz in Jawaani Jaaneman plays a womaniser and an uber-cool dad whose daughter finds her way back to him after being abandoned. Khan displays the love, care, confusion, uncertainty of the character with excellence in this fun film directed by Nitin Kakkar.
Sacred Games (2018 – 2019)

Saif Ali Khan debuted into the world of web series with Netflix's Sacred Games. Saif plays Inspector Sartaj Singh who seeks validation from the police department despite despising their corruption and hypocrisy. Saif's honest efforts are reflected through his performance.
Race and Race 2 (2008 and 2013)

Saif Ali Khan has been part of the first two Race installments as Ranvir Singh – who outsmarts anyone who tries to conspire against him. Khan's suave presence combined with his cool confidence was a treat to watch.
We wish Saif Ali Khan an incredible 50th birthday!
(Contributed by Deblina Munshi)