Romantic, glamorous and loved by all, Hollywood couples have a place in all our hearts! Here's our list of Hollywood love birds who are the epitome of true love, let us know who your favourites are too!
Blake Lively and Ryan Reynolds– These two together are the human equivalent of the heart-eye emoji! Blake Lively played the iconic Serena van der Woodsen on Gossip Girl and every girl on the planet had the biggest crush on Ryan Reynolds in The Proposal. So obviously when they got together, we were all ecstatic! They are absolutely adorable and hilarious in all their interviews together and the way they joke around with each other and seem so effortlessly authentic is very refreshing. And we just can't get over how he looks at her in pictures!
John Krasinski and Emily Blunt-  We all know and love John from his beloved character Jim Halpert in The Office and Emily Blunt from her unforgettably snooty and hilarious role in The Devil Wears Prada. They're both absolutely lovable and exceptionally talented on their own, and when they began dating, they became Hollywood's sweethearts as the new power couple in town. Emily claims she made the first move but John denies that, let's just go with Emily's side of the story. Ladies, don't be afraid to shoot your shot, you might just find someone as incredibly romantic and thoughtful as John!
Mila Kunis and Ashton Kutcher – If you're a That's 70's Show fan, you were probably rooting for these two to get together, and Alas! You got your happy ending just like they did. We all secretly believe in fate and soulmates, and every once in a while, we see a couple who proves us right! Mila and Ashton had met on the sets of their hit sitcom where they strictly remained friends for the entire duration of filming but their chemistry was undeniable. They kept in touch after Kutcher left the show, but only became romantically involved 10 years later when they ran into each other at an awards show. They tried to keep it casual but they both knew they wanted to end up together, fast forward to them having two beautiful children and being happily married. True love does exist!
Chrissy Teigen and John Legend – When we think of the perfect relationship, John and Chrissy come to mind. Through Chrissy's Instagram feed we, along with her millions of followers have been welcomed into their warm and always entertaining relationship with their two beautiful children. They're funny, exceptionally attractive and super authentic and what's so admirable about them is how they do not try to act like the photo-ready, perpetually happy couple. Their lives are just as messy, chaotic and wonderful as our own. We do wish we had their gorgeous villa and in-house movie theatre though!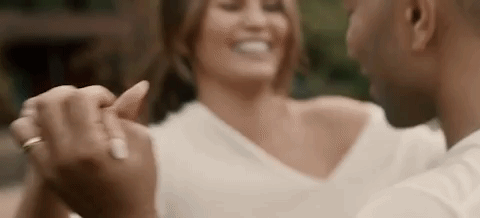 Priyanka Chopra and Nick Jonas –  The couple made headlines when they were first spotted together, and they've been Hollywood's sweethearts ever since! Their wedding was absolutely gorgeous and they continue to welcome fans into their lives through their adorable instagram posts about each other.
Let us know in the comments who your favourite Hollywood couple is!
Written by Nidhi Pattni