The sweet and succulent papaya is a fruit replete in nutrients and the list of its benefits is endless. Papaya's properties include anti-aging, aiding digestion, and weight loss. Papaya's goodness extends beyond consumption as well. Masks made from papayas are extremely nourishing and beneficial to the skin. Let's see some that you can try:
Papaya and Milk 
When papaya's properties commingle with the cleansing properties of milk in a mask, it becomes an excellent mask. The mask helps reduce dark spots, pigmentation, and gives the skin a healthy glow.  All you need to do is smash a few pieces of papaya and mix it with two tablespoons of raw milk. Apply the paste for 20 minutes and then gently rinse it off the skin.
Papaya, Honey, and Lemon
A combination of the nourishing honey, healthy papaya, and lemons rich in Vitamin C helps cleanse the skin and unclog pores. The mask also helps in fighting bacteria and helps reduce acne. Just mix a tablespoon of papaya paste with a teaspoon of honey and lemon each. Apply the mask and leave it for 15-20 minutes and then rinse it off.
Cucumber and Papaya
Cucumber hydrates the skin and when mixed with papaya makes for a rejuvenating mask for the skin. All you require is a few pieces of papaya and cucumber made into a paste. Apply it on your skin and leave it till it dries. Your skin will feel cool and refreshed. Wash it later.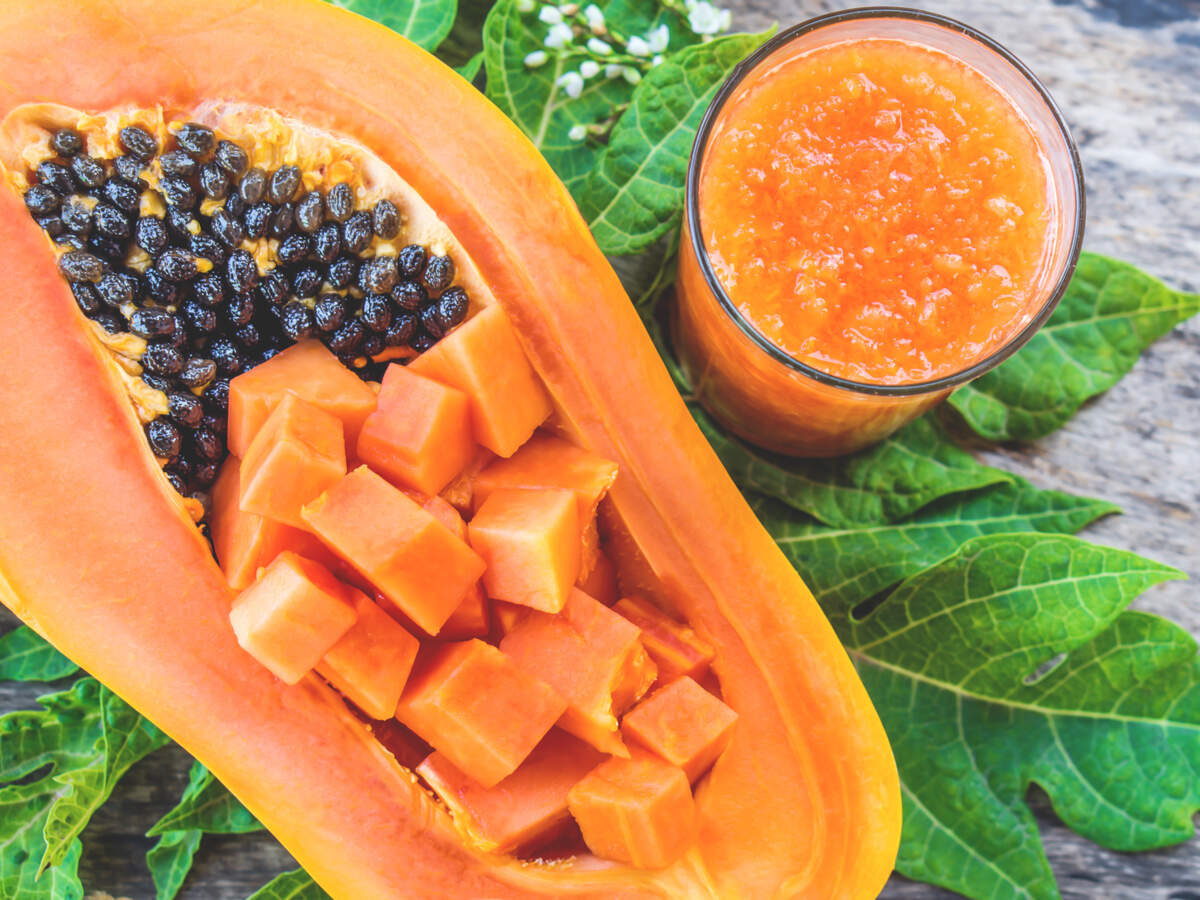 Papaya and Egg White
A mask made of mashed papaya and nicely whisked egg white helps tighten enlarged pores. Just apply the mask on your skin and wait till it is all dry and tight. The properties of the egg white and papaya reduce large pores and help in getting younger-looking skin. Wash it off gently with water and dab it dry.
Papaya and Turmeric
Papaya and Turmeric together help remove unwanted and ingrown hair by creating a mild scrub. All you need to do is mix papaya paste with a teaspoon of turmeric and apply it on your face. Wait till it dries and then gently scrub it off your face. Once the whole pack is removed, wash your face with lukewarm water and dry it with a soft towel.
(contributed by Deblina Munshi)