Prepare these easy cookies at home and add your own touch of love
Cakes, chocolates, hot chocolate, ginger cookies, and the list has no end! While most of the sweets in all stores are designed and topped with green, red, and white sprinkles celebrating the festive season, we thought "Why we can't make our own homemade cookies?" and the decision is made! Check these recipes and heat your oven for these delicious mouth-watering cookies!
Chocolate Ginger Cookies – Recipe by: Martha Stewart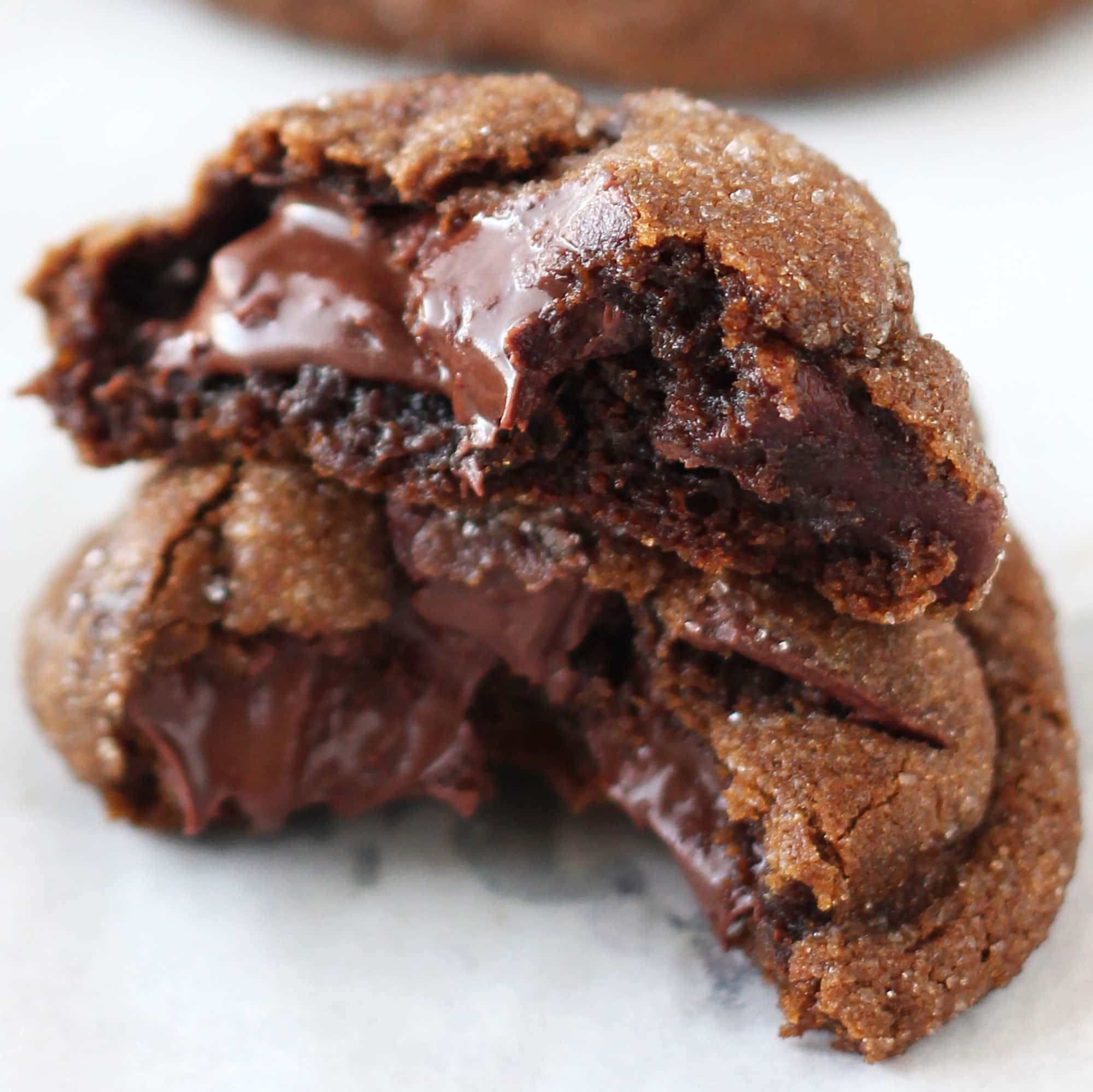 Ingredients:
1 1/2 cups plus 1 tablespoon unbleached all-purpose flour
1 1/4 teaspoons ground ginger
teaspoon ground cinnamon
1/4 teaspoon ground cloves
1/4 teaspoon freshly grated nutmeg
1 tablespoon unsweetened Dutch-process cocoa powder
1 stick (1/2 cup) unsalted butter, room temperature
1 tablespoon grated peeled fresh ginger
1/2 cup dark-brown sugar, packed
1/4 cup unsulfured molasses
1 teaspoon baking soda
1 1/2 teaspoons boiling water
7 ounces best-quality semisweet chocolate, cut into 1/4-inch chunks
1/4 cup granulated sugar
How to make it?
Line two baking sheets with parchment. In a medium bowl, sift together flour, ground ginger, cinnamon, cloves, nutmeg, and cocoa.
In the bowl of an electric mixer fitted with the paddle attachment, beat butter and grated ginger until lightened, about 4 minutes. Add brown sugar; beat until combined. Add molasses; beat until combined.
In a small bowl, dissolve baking soda in boiling water. Beat half of flour mixture into butter mixture. Beat in baking-soda mixture, then remaining half of flour mixture. Mix in chocolate; turn out onto a piece of plastic wrap. Pat dough out to about 1 inch thick; seal with wrap. Refrigerate until firm, 2 hours or overnight.
Heat oven to 325 degrees. Roll dough into 1 1/2- inch balls; place 2 inches apart on prepared baking sheets. Refrigerate 20 minutes. Roll in granulated sugar. Bake until the surfaces crack slightly, 10 to 12 minutes, rotating halfway through. Let cool on sheets 5 minutes, then transfer cookies to a wire rack and let cool completely. – -Cookies are best the day they are made but can be stored in an airtight container at room temperature up to 5 days.
Cranberry White Chocolate Chip Cookies – Recipe by: Trisha Yearwood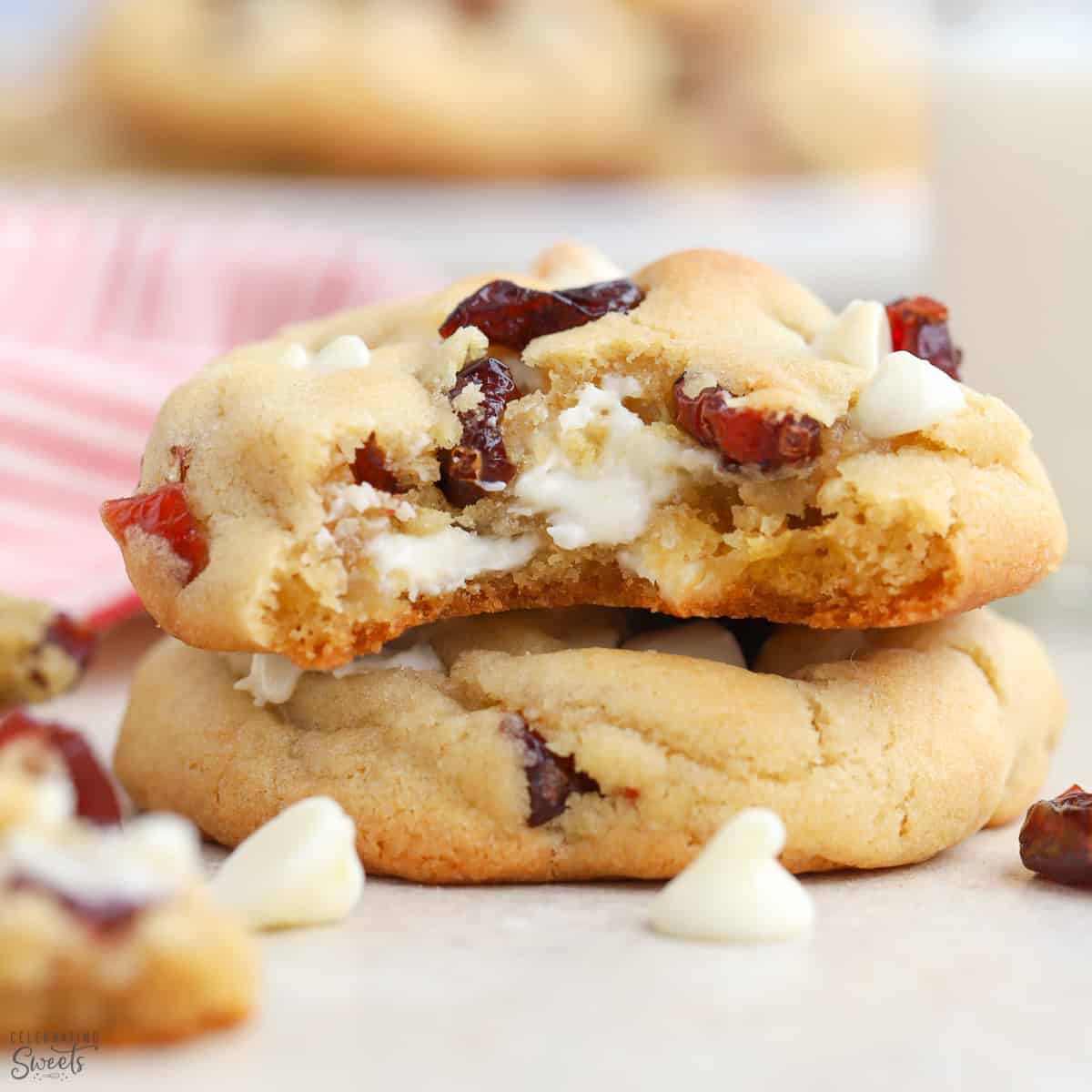 Ingredient:
1/2 cup unsalted butter, softened
1/2 cup packed light brown sugar
1/2 cup granulated sugar
1 tablespoon vanilla extract
1 large egg
1 1/2 cups all-purpose flour
1 1/2 teaspoons baking soda
1 cup dried cranberries, chopped
3/4 cup white chocolate chips
3/4 cup macadamia nuts, chopped
How to make it?
Preheat the oven to 350 degrees F. Line 2 baking sheets with parchment paper.
With an electric mixer, cream the butter and both sugars together until smooth. Add the vanilla and egg, mixing well. Sift together the flour and baking soda. Spoon the flour mixture gradually into the creamed sugar mixture. Stir in the cranberries, white chocolate chips and macadamia nuts. Drop by heaping spoonfuls, about 2 tablespoons, onto the prepared baking sheets, 2 inches apart. Bake one sheet at a time until lightly golden on top and the edges are set, 12 to 15 minutes. Cool on the sheet for about 5 minutes, and then transfer to a wire rack to cool completely. Store in an airtight container for up to 2 weeks.
Chocolate Kiss Cookies – Recipe by: Baked by Rachel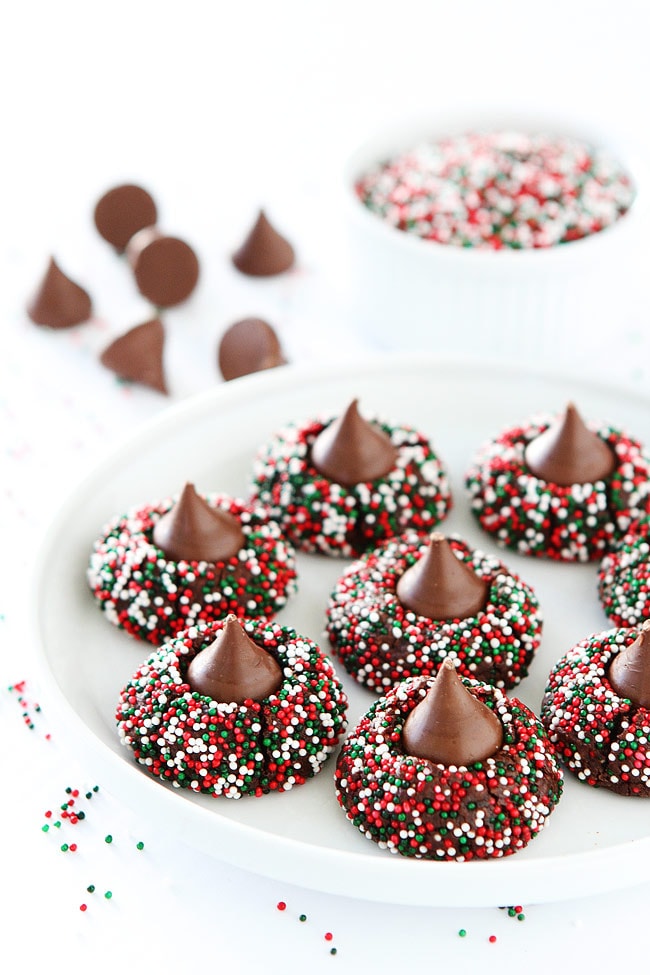 Ingredients:
3/4 cup unsalted softened butter
3/4 cup granulated divided sugar
1/2 cup light brown sugar
1 large egg
1 tsp salt
1 1/2 tsp baking powder
1/4 cup unsweetened cocoa powder
2 oz semi-sweet melted chocolate
2 cup all-purpose flour
Milk unwrapped chocolate kisses
How to make it?
Preheat oven to 350 degree. Prepare a baking sheet with a silicone baking mat or parchment sheet. Add 1/4 cup granulated sugar to a small bowl, set aside.
In a microwave safe bowl, melt chocolate in 30 seconds intervals. Stir after each interval. Repeat until fully melted.
In a large bowl or a stand mixer, beat together butter, 1/2 cup granulated sugar and brown sugar until light and fluffy. Mix in egg and vanilla, followd by salt and baking powder. Scrape bowl as needed. Mix in cocoa powder, followed by melted chocolate. Add one cup flour at a time. increasing after each addition. Mix until fully incorporated. If dough is too sticky to work with, chill for 15-2- minutes before continuing.
Using a small cookie scoop, scoop and dough into small balls. Roll in granulated sugar. Place sugar-coated dough balls on a prepared baking sheet spaced 2 inches apart. Bake for 10 mins. Immediately press an unwrapped chocolate kiss into each cookie. Immediately transfer cookies to a wire rack to cool completely and allow chocolate to set.
Once the chocolate has completely set, cookies may be sorted in an airtight container.
Chocolate Peanut Butter Rocky Road Cookies – Recipe by: Jody Arsenault
Ingredients:
1 cup semi-sweet chocolate chips
mini marshmallows
additional chocolate chips
peanuts
1/2 cup milk chocolate, melted
peanut butter
How to make it?
Mix 1 cup of chocolate chips into prepared cookie dough and then chill for 30 minutes (you do not need to chill the dough before mixing in the chocolate chips).
Preheat oven to 350F.
Scoop out some cookie dough and roll it into a ball. Place on an ungreased cookie sheet and flatten slightly so you have a flat surface, but still leaving a nice thick cookie.
Add your toppings of mini marshmallows, chocolate chips, and peanuts. (I find 4-5 of each topping on each cookie to be the perfect amount.)
Bake for 10-12 minutes.
Remove cookies from the oven and allow them to cool on the cookie sheet. When cool, drizzle with melted chocolate, and allow time to set.
Christmas Tree Shortbread Cookies – Recipe by: Chris Scheuer
Ingredients:
For the cookies:
8 ounces very soft butter
1/2  cup powdered sugar
1 teaspoon vanilla extract
1 ¾ cups all-purpose flour
1/4 cup cornstarch
For the glaze:
2 cups powdered sugar
4-5 tablespoons half and half (or milk)
1/2  teaspoon vanilla
1/4  teaspoon peppermint extract
2 colors of green gel paste food coloring
Instructions:
For the cookies:
Line 2 sheet pans with parchment paper. Set aside.
Place soft butter in a medium-size mixing bowl. Stir with a wooden spoon or sturdy spatula until nice and smooth. Add powdered sugar and vanilla. Mix together by hand for about 30 seconds until well blended.
Add the flour and cornstarch. Stir until dry ingredients are incorporated. The dough will be a little shaggy. Turn the dough out onto a lightly floured work surface and gather it into a ball.
Knead 5-6 times until fairly smooth and all the small pieces are worked in. Form into a ball again and flatten with your hand to form a flat disk. Turn the disk to coat both sides with flour.
Roll out the dough to an approximate ⅜-inch thickness (see Café Tips above in the post). Keep work surface, dough and rolling pin lightly dusted with flour. Cut out Christmas trees (in one or more sizes) and transfer to prepared pans with a thin, metal spatula. Re-roll scraps as many times as needed to use up the dough.
Place cutouts in the refrigerator for at least one hour or up to 24 hours. When ready to bake, preheat the oven to 350˚F. Remove 1 pan of cutouts from the refrigerator and bake for 12-14 minutes, or until just beginning to turn golden at the edges. Rotate pans halfway through
for even browning. Repeat with the second pan of cutouts.
Cool completely before icing.
For the glaze:
Combine powdered sugar, 4 tablespoons half and half (or milk), vanilla and peppermint extract in a medium-size bowl. Mix until smooth. The glaze should be fairly thick, but pourable. Add a little more half and half if too thick. Taste the glaze and add more extract, if a more intense flavor is desired.
Transfer the glaze to a small shallow bowl (a little bigger than your cookies). With a toothpick, swirl a small amount of two green gel food colorings through the icing in the bowl. Don't swirl too much or the icing will become a solid color. Use a light hand with the gel food coloring. A little goes a long way!
To glaze the cookies, hold onto the edge of a cookie and dip the top surface into the glaze, being sure all of the surface touches the glaze. Pull cookie straight up and out of the glaze. Allow excess glaze to drip into another bowl or plate (this will keep the glaze from getting murky) for about 30 seconds. When glaze stops dripping, quickly flip the cookie to the right side up and give it a gentle jiggle to allow the glaze to flow evenly over the surface. Repeat with remaining cookies.
Place cookies on a cooling rack and allow glaze to dry completely.