Renowned singer-actress Suneeta Rao recently collaborated with Shenandoah University to contribute a solo to the pandemic version of Stefan Youngblood's Unity anthem 'We Will Rise'. This is not the first time Rao has lent her voice for a social cause. She has previously written and recorded an anthem on global-warming for a campaign called 'Planet Alert'. She is also closely associated with the children at Dharavi Rocks with whom she has a project underway.
As we called the pop icon for this interview, we were pleasantly treated to the caller tune of the famous 90s number sung by Rao herself, 'Pari Hu Main'. And at the other end of the call was one of the warmest and most welcoming voices we've heard. In a candid chat with the acclaimed songstress, Suneeta Rao spoke to Deblina Munshi about her new song and recording it with international artistes during the lockdown.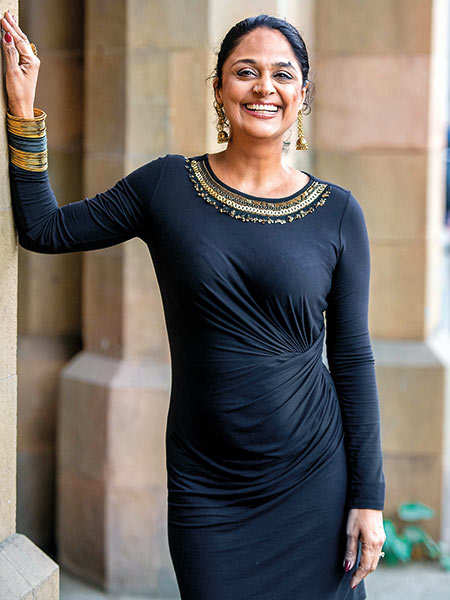 The song is sung by people from various corners of the world but the video flows seamlessly, how did you manage to achieve that kind of fluidity? 
'We will Rise' is an anthem in the true sense of the word and it has been used on several occasions by various countries – most of which have participated in this particular video – in their respective crises and natural disasters. It has been composed by Stefan Youngblood and because of the lyrics, it has been used by a number of people because it's very motivational. So, when Shenandoah University asked us all if we wanted to be part of this collaboration, we agreed. Each person quarantined at home because of this COVID situation – many of whom were living in very remote parts of the world where it's very difficult to have internet access. But the instructional notes that were given to everybody were very clear. Everyone was told to record it in a certain format on their mobile phones or their tablets with a particular level of an audio. The director Matt Oltman along with Stefan Youngblood received everybody's files, then they put together the audio and the video, and then they came up with this incredible quality production. It's really a huge thing!
How was your experience of the collaboration?
It was very emotional, because in that moment I was wishing that I had all those people around me to sing with and all I had with me were the verses and headphone and nothing else. So it was a very moving experience and I felt very honoured and happy to have been invited to be a part of it. The uploading and the technical part of it, I have to say, was easier for me sitting in a flat in Mumbai with my iPad and iPhone than somebody in some remote village. So it reminded me of that and I felt grateful all over again. I was thrilled to see the way it was put together.
The song is so empowering, what meaning does it hold for you?
I think life is essentially difficult, so the only way you can actually thrive is to actually rise above all difficulties. Nothing can be more appropriate than those lyrics, especially in the circumstances that we find ourselves in these days, because nothing is like it used to be before. Just before going to sleep, my daughter asked, "Mumma when are we going to have to stop wearing masks and staying away from our friends?" And I had to bravely look at her with a positive mind-set, speak fearlessly, honestly and soothingly and tell her that it's going to take a while. I roared above it and spoke to her without breaking down, or looking sorry for myself or the world. And because I was able to do that, she was able to do that. That's the significance of the song for me.
How much has music helped you overcome the angst of quarantine?
It's actually saved me but not from the point of view of oh-music-is-enriching-my-life-and-saving-me, it was always like that. To be honest, I have done more concerts and international video collaborations in these four months, than I have done in the last two years. I have had two beautiful online concerts, this video and another one with a community called 'The Drama Never Dies'. I have actually been practicing, putting together the repertoire, uploading, and recording things. It takes me away from the drudgery of cooking and cleaning which one has to anyway do because of the lack of staff. And the most important thing is the people's reaction! The moral support and praise that I am getting clearly from people's reactions to all these videos and concerts is like I have a family up there. I don't feel like I'm alone because I've had the opportunity to do all these beautiful things and that's what I'm so grateful for.
Check out Suneeta Rao's play 'The Drama Never Dies' here.
Is there anything new you've been working on?
My mother is a Ghazal singer and I have started making these beautiful little music videos to all her songs. I have already released one on YouTube and just finished cutting the second one. It will be up for release soon. The other thing is my private project which has been on a standstill because of the lockdown, so that's something that should be coming out. I have also been involved with the Dharavi Rocks Children and that's something I'm really looking forward to working on and presenting to the world.
Check out Suneeta Rao's Youtube video here.