Ras Al Khaimah Tourism Development Authority (RAKTDA) debuts a new vision for Jebel Jais, the highest mountain peak in the UAE, in honour of International Mountain Day on 11th December and as part of the Emirate's new destination strategy focused on sustainable tourism, eco-conservation and growth.
As a growing number of travellers look towards responsible, nature-driven travel, these projects are purpose built with sustainability standards and processes. Designed to integrate seamlessly into the mountain ecosystem and enhance knowledge and understanding of conservation, the developments on Jebel Jais perfectly align with the tourism board's recently announced Sustainable Tourism Destination Strategy that will see Ras Al Khaimah become the regional leader in environmentally conscious tourism by 2025.
Cementing its position as an adventure and wellness destination, the elevated attractions on Jebel Jais will draw even more visitors to the mountain and firmly position Ras Al Khaimah as a destination for unchartered, awe-inspiring moments. From an expanded offering at Bear Grylls Explorers Camp to an enlarged and reopened 1484 by Puro – the highest restaurant in the UAE – Jebel Jais' much-loved attractions have been reimagined to offer the perfect getaway from everyday life.
The enhancements on Jebel Jais are part of the half a billion-dirham investment announced earlier this year by the Authority, in partnership with RAK Hospitality Holding and RAK Chamber of Commerce and Industry across 20 projects throughout the Emirate.
Set to open in late 2021/early 2022, the exciting new additions to the mountain include:
Jais Sledder, the region's longest toboggan ride at 1,840 meters, opening December 2021
Jais Wings, the first dedicated paragliding site in the GCC.
Jais Swing, made of twin ropes to provide amazing views and a unique content opportunity for the ultimate Instagram-able moment.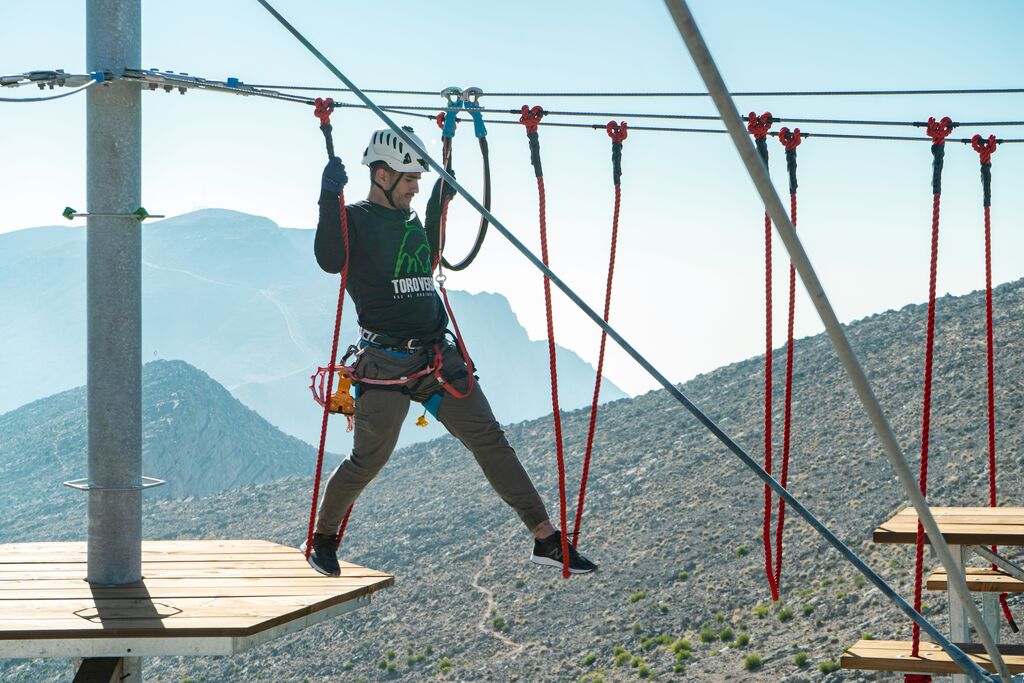 These new attractions will be followed by the opening of new sustainable accommodation and other offerings on Jebel Jais in 2022 and beyond, including:
Earth Altitude, an eco-based pop-up hotel concept featuring 15 fully fitted accommodation units, an activation center and swimming pool, set to open in Q1 2022.
Cloud7 Camp Jebel Jais, the ultimate sustainable glamping experience with 30 accommodation units, planned for Q4 2022.
Basecamp Jais, which will offer affordable accommodation and serve as a new leisure hub with yoga and Emirati live cooking, planned for Q4 2022.
Jais Yard, a foodie village with food trailers, kiosks, retail containers, vintage truck restaurants, open air cinema and children's play areas, to open at the end of 2022.
Raki Phillips, CEO of Ras Al Khaimah Tourism Development Authority, said "As the custodians of our beautiful Emirate, it's our job to protect and conserve the Hajar mountains which is home to the highest peak – Jebel Jais.  It's undeniable that nature is at the heart of our destination with stunning topography ranging from long stretches of pristine beachfronts and sprawling deserts to, of course, spectacular mountain ranges. This is front and centre of our new destination tourism strategy to become the regional leader in environmentally conscious tourism by 2025 so that we can welcome three million visitors annually by 2030 in a responsible and purposeful way."
"Jebel Jais is home to Ras Al Khaimah's most iconic adventure and nature-led attractions," added Alison Grinnell, CEO of RAK Hospitality Holding. "A tourism destination in its own right, we continue to evolve the mountain's multitude of experiences to attract more people and give visitors the chance to get up close and personal with its spectacular terrain and natural vistas, without impacting the local ecosystem.  These enhancements will bolster its position as the ideal getaway for those seeking new adventures, outdoor and survival experiences or simply looking to escape city life."
Situated in the majestic Hajar mountain range and towering over Ras Al Khaimah at a height of 1,934 metres, the Jais Adventure Park will serve as the gateway to the iconic mountain's multitude of experiences, dotted above the peaks and craigs of the surrounding mountains.
Extended capacity for 1484 by Puro:
1484 by Puro, the UAE's highest restaurant, reopened its doors this October and has been enlarged to meet popular demand. visitors can take in the breath-taking views from its stunning terrace while enjoying a delectable new menu showcasing the best locally sourced ingredients.
New for this season is the rooftop lounge, The View by 1484, offering quick bites and drinks with breath-taking views. The lounge can also be exclusively booked for private events and gatherings.
The Welcome Centre has also been refurbished to include a souvenir shop and prayer room facilities.
Additional cabins and new activities for the Bear Grylls Explorers Camp:
The world's first branded accommodation at the Bear Grylls Explorers Camp has been expanded to offer 16 recycled and redesigned cabins nestled within the mountain.
Sign up for a Bear Grylls Survival Course. Run by experts trained at the Bear Grylls Survival Academy in the UK, courses include the Essential 4-hour beginner level, Surviving the Wild (8-hour intermediate course) and Primal courses (24-hour overnight course) for individuals and families.
Ropes Course, a self-guided rope course situated 10 meters above ground, suitable for adventure seekers of all ages, with two levels of endless fun.
Updated routes and new Burma Bridge for the region's only commercial Via Ferrata (Opening December 2021):
Jais Via Ferrata will reopen with three unique guided routes to appeal to all fitness and skill levels from introductory to a more extreme vertical climb. Restructured to operate via a continuous single belay clinging to the cliff edge and provide a more direct ascent.
With each route designed to last around two hours, one of the new highlights is a Burma Bridge, traversing 40m and set 200m above the ground, plus two ziplines ranging from 60m to 210m.
New Welcome Center and operator for Jebel Jais' zipline experiences:
Jais Flight: The World's Longest Zipline, now under the management of Warrior Group, the adventure and extreme sports experts behind the hugely successful Desert Warrior Challenge, and with a new purpose built zipline HQ
Jais Sky Tour covers a 5km via a series of seven ziplines with average speeds of 60kph. Flyers will navigate their way through the air to reach the 15-metre-long sky bridge, the highest in the UAE at 1,250m above sea level and 300m above ground.
Improved hiking experience and trails:
Enhanced Hiking routes on Jebel Jais include markers and reflectors, new trail development, safety & information boards as well as a hiker's shower room. There is also shaded picnic benches at vantage hiking spots and water fountains for hikers to refill bottles and reduce plastic waste.
16km of hiking trails offer an adventure for all ages and difficulty levels, varying from the low level Farfaar Trail through to the infamous Stairway to Heaven, known as one of the toughest hikes in the UAE due to its steep elevation.
E-charging stations and e-bike hire:
New for 2021 is 10 e-mountain bikes, available to hire by the hour for self-guided trips in the wadi, or for guided tours and skill sessions on demand.
Further supporting the environmentally friendly goals of the Emirate, are two EV charging stations, located at the Viewing Deck Park and Jais Adventure Centre. Both Charging Stations are free of charge and can be accessed 24/7.
Saij, A Mantis Collection Mountain Lodge, compromising of 70 luxury lodges, will provide a luxury mountain retreat that focuses on nature with guided treks, mindful pursuits and creative experiences, in the pipeline for 2023.