Today marks the birth anniversary of the 'Gregory Peck of India', Dev Anand. Dev Anand, whose life was no less than a rollercoaster ride, is fondly remembered for the films and songs that he had been a part of. Dev Anand or as lovingly called Dev Saab not only acted but directed films and was the force that introduced the likes of Zeenat Aman, Tina Munim, and Tabu to the screen.  With films like Baazi, Paying Guest, Kala Bazaar, CID, Teen Deviyaan, Swami Dada, Dev Anand has left shoes too large to fill. Let's celebrate his life with his most illustrious on-screen appearances.
Guide (1965)

Dev Anand plays Raju, a man who works as a guide to earn his living. While guiding Marco (Kishore Sahu) on one of his archaeological excursions, he spends time with his young wife Rosie and learns that she is a dancer who had to give up her passion to marry Marco. Raju not only accepts her as she is but also helps her find respectability in society. Raju is a charmer of a guide and Dev Anand's riches to rags transformation is a memorable one.
Jewel Thief (1967)

In Jewel thief, we see Dev Anand as a lover and a suspect for theft. As Vinay and Prince Amar, the actor is aware but the character unaware of the duality of his role. Anand beautifully bridges the gap with a seamless performance.
Hare Rama Hare Krishna (1971)

The brother-sister duo played by Dev Anand and Zeenat Aman is one that has been etched into the memories of those who watched them. As a brother separated from his sister due to his parents' separation, Anand's journey to find her and reveal himself to her is both endearing and heart wrenching.
Johny Mera Naam (1970)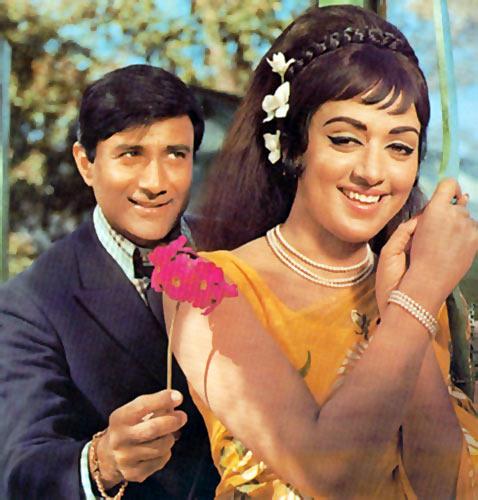 Dev Anand's Sohan in Johny Mera Naam is an inspector in disguise of a petty thief. Sohan goes undercover as a thief to find ordered his father's murder. Dev Anand grips the audience from start to end with his riveting performance.
Kala Pani (1958)

Dev Anand plays Karan, a son living with the knowledge of his father's death when in fact he has been falsely charged and imprisoned for a murder. Karan takes it upon himself to prove his father innocent and must travel dangerous paths to do the same.
Tere Ghar ke Saamne (1963)

Rakesh, an architect, is in love with the daughter of his father's staunch enemy, Sulekha (Nutan). Sulekha and her parents are completely unaware of Rakesh's real identity. As Rakesh, Dev Anand flaunts his great comic timing in scenes where he sends us in splits by trying to keep his parents away from meeting those of Sulekha.
Hum Dono (1961)

Hum Dono shows the versatile Dev Anand in a double role as Anand and Major Verma. Anand, an armyman, goes to Major Verma's family himself when he goes missing in war. He is misjudged due to his uncanny resemblance to Major Verma, but does not have the heart to reveal it to his family. As he takes up the role of Verma, he is charged with betrayal and infidelity, neither of which he actually engages in.  Wishing the legend a happy birthday!